A few months ago, I went to India and took my home deity of Nrsimha with me. Wherever I travelled, I would offer lamps and flowers, incense and food each morning. Being India, the offering of flowers part was particularly rewarding. Florists begin their selling in the early hours of the morning, long before sunrise, then right through the day, out on the main street.
There were fragrant and colourful flowers, many varieties, fresh tulasi leaves, and I even bought good-sized pink lotus flowers for just a few pence. It was an opulence. Here are some pictures:
Jasmine garland
Jasmine and Rose with fruit offering
Up close
The worship of Nrsimhadeva is particularly popular in Andhra Pradesh, and there are many temples dedicated to Him. In Chennai (Madras) I was able to visit the head of a large branch of Vaishnavism and arrived at the temple in the east of that city just in time to see the worship being conducted. Quite an impressive spectacle.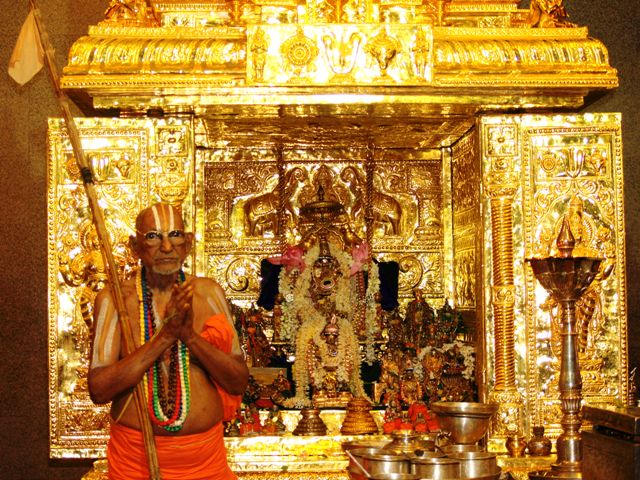 The acarya stands before the travelling golden altar. Lord Malola-Narasimha sits resplendent.

I have written before about the deity of Laxmi-Narasimha that was given in a dream to a great devotee, Adivan Shatakopan, around 600 years ago. They are the main deities on the travelling altar at the centre of the worship.
The gorgeously decorated Malola-Narasimha
Another deity made His divine appearance when a king commissioned a Shiva-lingam to be cast from pure gold. It was his practise to award one such lingam every so often to a chosen brahmana. In this particular case, although the mould was the same as usual, the lingam came out as Narasimha. The metal caster apologised to the king and tried again. Twice more it happened and then the king realised that this was the work of Lord Sri Vishnu Himself. This beautiful golden deity is now worshipped on the same travelling altar.
I wanted to know more about my own deity and so I went to an expert, someone who knows about the archa form of that particular Vishnu-avatar. He expressed his amazement that a westerner was engaged in this practise, just when it was declining amongst the educated of India. He confirmed that my deity was of considerable antiquity and mentioned some details of the figure that have now disappeared in more modern forms.
The teachers and students of the school of which he is the principal all came round to have a look at the strange Englishman who practised their religion – and the beautiful deity he was carrying!